Warn winch
Warn is the leading manufaturer of all type of 4x4 winches. They do make a lot of very nice electric winches.
9.5ti THERMOMETRIC SELF-RECOVERY WINCH

The 9.5ti Warn winch packs 9500 lbs of pulling capacity into a massive 12.5 lb aluminum die-cast body. This eletric winch not only looks great, but also sheds the elements like no other electric winch on the market: hd seals at the key points give extreme-duty water resistance. A Generation II Series Wound motor which delivers just the right balance between torque and speed. And another plus Warn Industries first - operator feedback - the thermometric indicator gives the operator information about motor temperature during the winching operation. That does mean you can easily see if your winch is overheating at any time dureing the winching of your vehicle.
9.5xp SELF-RECOVERY WINCH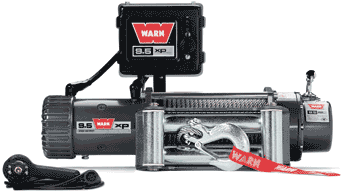 The fast, powerful WARN 9.5xp is designed for the serious off-roader like Land Rover ethusiasts who demands a powerful electric winch that will perform under the most extreme conditions in the world. With 9,500 lbs. of pulling power (firts layer only), the longest duty cycle and fastest line speed of any WARN winch under load, the 9.5xp delivers extreme performance that eats up the competition-even in competition.

The 9.5xp winch features an all new, High Output Parallel Series Wound winch motor that's the strongest and most durable in the industry. The 6 hp motor, 3-stage planetary gearing and continuous duty control pack work in sync to tackle the most demanding pulls. Full face contact hd drum seals, motor and end housing gaskets do deliver extreme-duty water resistance under all kind of circumstances. Finish: a high gloss, chip resistant powder coat over chromate coated alloys does give it superior corrosion resistance.

M12000 SELF-RECOVERY WINCH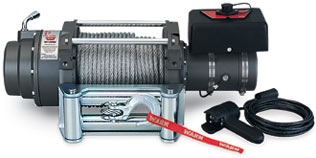 For heavy-duty winching needs, this winch is a champion workhorse. Big torque, power and quick no-load retrieval speed is 30 feet per minute. Its design is low profile, so it'll fit where you want. And it's powered by the 4.6-hp Series Wound TM motor and our proven three-stage planetary gear train. With 125 ft. of 3/8" wire rope, the WARN M12000 can solve most any pulling problem.
M8000 SELF-RECOVERY WINCH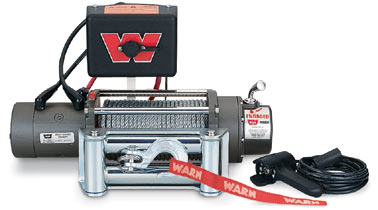 Compact. Tough. An outstanding value for trucks, sport utility vehicles and Jeeps. The M8000 has been available on the market for many years now and does have a 4.8-hp Series Wound motor and 3-stage planetary geartrain. It packs 8,000 lbs. of pulling power to get the job done. Available with either 80' of wire rope and hawse fairlead or 100' of wire rope and roller fairlead. Pulls a fast 8 ft. per minute at rated load.
Check out the Warn Winch website for more infor on these electric winches.