Mountain bike Montague Paratrooper
The Mission: Desert stealth mobility. The Challenge: Develop ground mobility that is tough enough to drop from a plane; durable enough to traverse any terrain, move at high speeds and require minimal maintenance; easy enough to fold into a portable size yet agile enough to unfold in seconds.
The Result: The Montague Paratrooper Mountain bike. The News: This MTB is now available for civilian use.

The Paratrooper Mountain bike is a 24 speed mtb which folds simply, without the use of any tools. By turning loose one quick release lever, the ParatrooperT compacts in less than 30 seconds into a 3'x3' pack for easy portability and storage in a closet or the back of your Land Rover!
Darpa Development:

Montague Corporation, the world leader in full-size performance mountain bikes that fold, developed the ParatrooperT Mountain Bike in conjunction with the Defence advanced Research Projects Agency (DARPA) to bridge an important gap between walking infantry and heavy military vehicles like Hummers or other army trucks. Montague Corporation is the pioneer of the Folding Integrated Technology (FIT), deemed to be one of the next-generation trends in the bicycle industry. DARPA, the Pentagon-based agency, known for it's foresight and investment in significant world changing projects (including funding the development of the Internet back in the 70's) recognized the importance of this folding technology for military use and so funded the development of a bicycle that could be used by US Marines, Paratroopers, Military Police, Rangers, Police and other Military divisions.
Now available

To date, the military mountain bike has not been available outside of the DARPA development circle. Now, due to an overwhelming demand from hunters, smoke-jumpers, parachutists, and many other guys like Land Rover Enthusiasts that enjoy getting off-the-beaten-track, Montague has decided to manufacture the original Military Bike in the form of the "ParatrooperT" mountain bike for civilian use. This bike isnow available in the Landroverweb.com Adventure Shop!
Buy now! - Specifications - More Images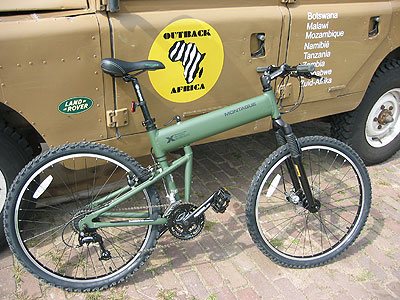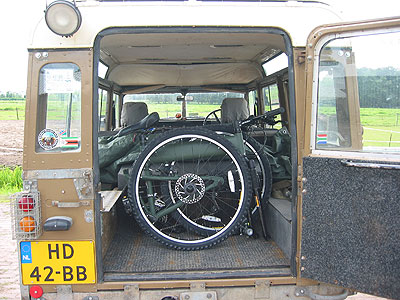 The Montague Paratrooper Mountain bike does fit easily into
the back of your Land Rover!

Air drop ground mobility for paratroopers
The Paratrooper Tactical Mountain Bike was designed as ground mobility for the paratrooper. It is a sturdy, durable full size Mountain Bike, designed to fold so the bike can be dropped on a static line. Once on the ground the bike is unfolded and serves as effective, efficient and stealthy ground transportation, allowing easy evacuation upon completion of a mission.


Paratrooper & Mountain Bike