Website links to 4×4 Land Rover tire manufacturers. Below some popular Land Rover tires choices, like the BF Goodridge All Terrain T/A and the General Grabber AT2 4×4 tire and the Cooper Discoverer S/T-C (scroll to botom of page for more details)
– Avon tires
– BF Goodridge tires
– Bridgestone tires
– Colway remould tires
– Continental tires
– Cooper tires
– Dunlop tires
– General tires
– Goodyear tires
– Michelin tirs
– Pirelli tires
– Yokohama tires

General Grabber™ AT2
Optimized 5-Row Tread Pattern
Advanced Cut & Chip Resistant Tread Compound
Square Tread Contour
Traction Ridges
Rim Protector Flange

Snowflake Approved



An All-Terrain Tire with an Attitude
The Grabber AT2 has an aggressive tread pattern that provides extreme traction in the harshest environments.
Optimized 5-Row Tread Pattern: Five rows of aggressive, gripping, biting, self-cleaning tread lugs for commanding performance on and off the road.
Advanced Cut & Chip Resistant Tread Compound: 17/32″ of the meanest, cut & chip resistant tread compound that enjoys running over rough terrain.
Square Tread Contour: Nothing square about this tire except the tread contour, when shape does matter for commanding surface contact.
Traction Ridges: When the trail gets sloppy, traction ridges at the base of every groove give added traction to pull you through.
Rim Protector Flange: When the trail gets tough, the built in rim protector shields your cherished rims from damage and repels debris from the bead to get you back home.
Snowflake Approved: No problem when the weather turns snowy. This snowflake approved tire chews and claws its way through.
UTQG-Rating:
Tread Traction Temperature
All Sizes 640 A B

Data Sheet General Grabber AT2 (pdf)


BF Goodrich All-Terrain T/A ® KO Tire
All-new version of America's best all-terrain tire. ShoulderLock T Technology. Even more go-anywhere traction, durability. Exceptional treadlife. Same great looks. Meets RMA definition for passenger and light truck for use in severe snow conditions. TriGard® construction for serious durability.  
Latest generation of America's best all-terrain tire
TriGard® construction
Excellent traction and handling on- and off-road
Mud-Terrain™ T/A® KM2 BFGOODRIDGE
Krawler-inspired tread design with great looks and dual grooving pattern for incredible on-off road performance More transverse and linear flex zones across tread improves off-road traction Large sidewall lugs add muscle to the sidewall and improve traction in soft soil conditions †
Aggressive New Looks
Large and thick sidewall lugs increases sidewall strength New sidewall rubber compound is more resistant to cutting and tearing BFGoodrich Tires' TriGard, 3-ply construction has cords that are up to 33% stronger that increase sidewall strength†
Krawler-TEK Sidewall
New sizes that are up to 42 inches in diameter More sizes with 17 inch and larger rims Increased market coverage†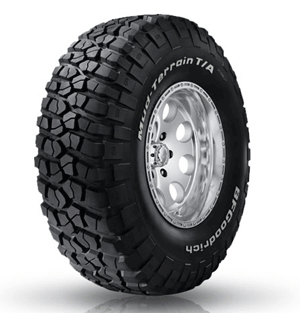 BFGOODRIDGE MUD TERRAIN TIRES
Discoverer S/T-C
Cut and Chip Resistant Tread Compound
Provides increased resistance to cutting, chipping, and tearing commonly found in rocky off-road and gravel.
Large, Beefy Tread Elements
Designed for off-road applications while providing long, even wear in highway applications.
Deep Tread and Scalloped Shoulder Design
Maximizes traction in soft surfaces.
M + S Rated