Overland Kit (example used by Marco de Lange S3 Land Rover Stationwagon 2,25 petrol)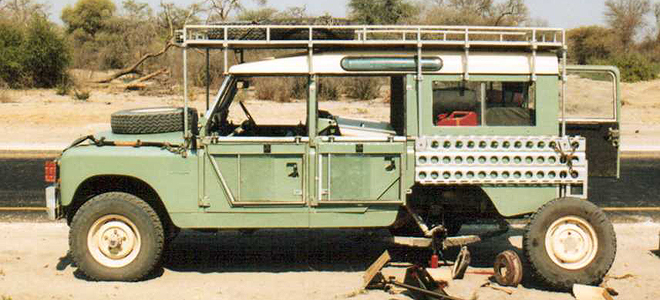 There are many things you can take with you on an overland tour but you always have to consider the following:
"The more you take the heavier your vehicle wil be and the more breakdowns you'll get"
Also you must decide the level of reliability you want, e.g. if you have the time or driving in convoy you can e.g. take less spare parts but if you are in a hurry and on your own you must take more.
Another question will be what can be repaired by yourself and what not? So the level of your DIY skills. Make sure you can do at least basic repairs and vehicle servicing like topping up fluids, tyre repair and e.g. brake bleeding. Know in advance how to operate tools and off-road equipment.
And also very important, where are you going? The more remote the higher the risk you end up without any help or back-up.
So know your skills, practice before you start, check your vehicle + gear frequently and keep in mind were (how remote) you are going.
The following is a list of almost all the equipment I take with me on a tour. This is quite a lot but I do not travel in convoy (no back up) and want to be able to do all repairs on the road with a minimal delay in time. It's not 100% complete but most is listed.
Land Rover Series IIA-III Hybrid 109 Stationwagon
– Spare Parts in Vehicle
– Tools
– Off-Road Gear
– Camping Gear
Almost everything has been used in a period of 7 years and 150.000 Africa km's!
Spare Parts in Vehicle:
– Engine Gasket Set (used)
– Engine + Gearbox Rubbers (used)
– Gearbox Gasket Set (not used)
– Brake Pipe Set (used)
– Brake Hose F+R (used)
– Wheel Cylinders (used)
– Wheel Cylinder Kits (not used)
– Water Pump (used)
– Brake Master Cylinder (not used)
– Brake Master Cylinder Repair Kit (used)
– Clutch Plate (used)
– Clutch Master Cylinder (used)
– Clutch Release Bearing (used)
– Clutch Pipe + Hose (not used)
– Clutch Repair Kits (used)
– Hub Seals + Gaskets (used)
– Hub Flange (4) (used)
– Axle Shaft RH+LH Rear (used)
– Complete Spare Hub (not used)
– Spring Main Leave F+R (used)
– Radiator Hoses (used)
– Starter Motor (used)
– Alternator Brushes (used)
– Spare Alternator (used)
– Spring Bolts (8) (used)
– Spring Bushes (4) (used)
– Spring Shackles (4) (used for emergency clamping of broken spring)
– Shock Absorber Bushes (10) (used)
– U-Bolts (used)
– UJ's (used)
– Wheel Bearing (used)
– Tie Raps, Wire, Small Ropes (used)
– Tape, Silicon Sealant, Glue (used)
– Treaded Rod M10/M12/M14(used)
– Tape 3M Reinforced (used)
– Tyre Repair Kit (extensive)(used)
– HD Tyre Patches (broken plies repair)(used)
– 2 Tubes (used)
– 2 Spare Wheels (used)
– Nuts, Bolts and Screws (various)(used)
– Electric Bits, Bulbs, Fuses (plenty) (used)
– Distributor + Points (used)
– Spare Electric Fuel Pump (Facet Solid State)(used)
– Oil Filters (2)(used)
– Engine Oil (6-10 liters) (used)
– Gear Oil 5 x 500ml. (used)
– Brake Fluid 4 x 500ml. (used)
– Easy Bleed Kit (used)
– Copper Grease (used)
– Old Primary Gear Shaft (handy for fitting clutch plate)(used)
Tools:
– Large Socket Set
– Small Socket Set
– Spanner Set (2)
– Screw Driver Set
– Hub Nut Spanner
– Wheel Nut Spanner
– Starting Handle
– Feeler Gauges
– Torque Wrench
– Tyre Levers (3)
– Timing Light + Voltage Meter
– 12v. Drill + drills
– Battery Charger
– Hack Saw
– Small Saw
– Bow Saw (for wood)
– Axe
– Small Hammer
– Solder Iron
– Blow Torch
– Pop Rivet Tool
– Several Pliers (incl. circlip)
– Small Grease Gun
– HD Hand Pump (for tyres)
– 2 Ton Bottle Jack
Off-Road Gear:
– High Lift jack
– Brano Hand Winch
– Superwinch X9 Electric Winch
– Ground Anchor + 4 T-stakes + Large Hammer
– Tree Strap
– 30m Extension Cable
– Truck Towing Cable 6m NATO
– 7000kg Ratchet Straps 7m. (3)
– Sand Ladders (2)
– Shovel
– 6m. Chain + Several D-Shackles
– Snatch Block + Pully (2)
– Diff Lock Fitted to Rear Axle
– 4 Spot Lights
– GPS
Camping Gear:
– Echo Roof Top Tent
– Electrolux Cooler (12v/220v/gas)
– Chairs + Table
– Kitchen Gear (incl. alu. pots and pans)
– 20l. Water Jerrycans (5)
– 20l. Petrol Jerrycans (8)
– 4x4m. Canvas Sheet (to make shelter)
– 10m. Nylon Rope (8) (to make shelter)
– HD Thermos Flask
– Garden Spray (airco)
– Braai/Cooking Grid
– Cadac Gas Tanks (2)
– 6 Military Boxes (large)
– 8 Military Boxes (small)
– Small Dome Tent
– 2nd Battery + Split Charge Relay
– 3 small 2kg Fire Extinguishers
– Extensive First Aid Kit