Re-building a Land Rover Defender Brake Caliper


by
Leslie Henson
<click here for the printable pdf file>
The pistons in the brake calipers on the Defender 90 are in very poor condition, and although the brakes work ok, it plays on our mind that the pistons are badly corroded, and it seems likely that someone has done a poor job in the past. You have to bear in mind that it is extremely important that this job is done correctly, as bodging it has potentially disastrous consequences. If you're not sure about your ability to work on any part of the braking system, then get someone who can. In principle, as with most other jobs on your Land Rover Defender, care and attention doesn't put any job out of your reach providing you have the tools, ability, and confidence to do it yourself. First picture is the brake caliper as it is seen after the wheel has been removed. In this case turn the wheel hard left to get decent access to it.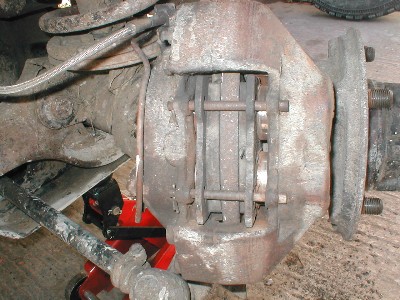 Remove the pad retaining pins and then remove the pads. In order to assist in removing the pistons it's a good idea to get them as far out of the caliper body as possible without 'popping them'. I used the backing plate from a brake pad to get this far out before disconnecting the caliper from the rest of the braking system.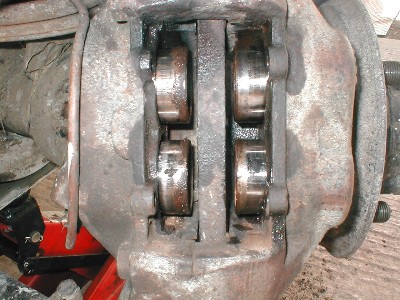 Disconnect the brake flexi-hose and then remove the short piece of brake pipe that goes down the side of the caliper. Also remove the bleed nipple and a fair amount of fluid will then drain out. Undo the two bolts that hold the caliper to the hub assembly and lift it away. A vice is handy to do this work for obvious reasons.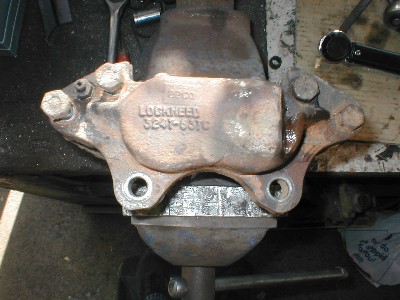 A while ago there was a comment someone made about how tight the bolts that hold the two halves of the brake caliper together should be. I used a torque wrench to undo the bolts, and it took 55 ft/lbs to undo them, so this is the figure I will use to re-assemble it again. I have to say that this may not be right, but I'm unable to find the correct figure, so I'm taking a bit of a risk here. Thread locking compound is also being used on re-assembly and personally I'm confident that all will be fine. Next picture is the two halves on the bench still with the old pistons in.