Re-building a Caliper (page 2)
A set of 4 standard pistons from Bearmach were £35.50 inc VAT plus the seal kit, which was about £4 inc VAT, so £40 per caliper for bits. £60 for a re-con one sounds cheap though, but then there is the satisfaction of knowing you did the job yourself I suppose.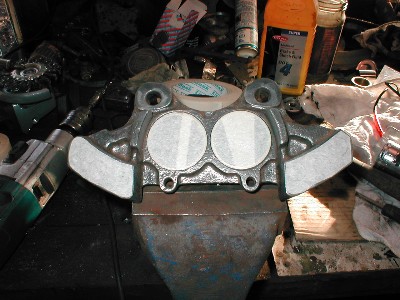 As I want to paint the caliper, There are certain areas which have to remain bare metal, so a bit of careful masking is necessary.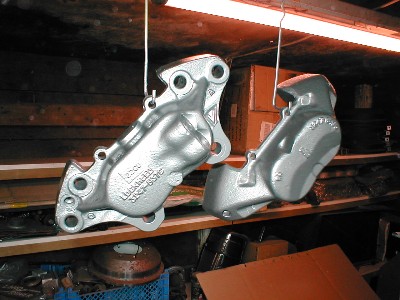 Both halves are cleaned, de-greased, and masked where necessary. I used '5-wheel steel' spray paint as in the past it has proved very adequate for a variety of applications apart from wheels. Here are the freshly painted bits hanging up to dry.
Now the new seals can be lubricated with brake fluid and then pressed squarely in with hand pressure. There should be quite a bit of resistance, but the piston should go in smoothly. Here are the two halves all ready to be bolted back together.
Finally the two halves are bolted back together, torque seal or thread lock has to be used on the 4-bolts.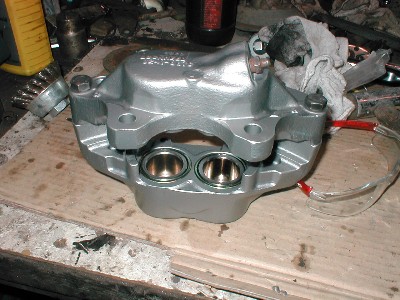 The caliper now looks as good as new (not for long though probably). The finish reflects the amount of care that is necessary to do this job correctly. In case you need to know, the vehicle is a 1990, 2.5TD 90. The cost to each caliper is just under £40 for the parts and the time it took me to do each one was about 3-hours. Some of that was waiting for paint to dry, so expect a couple of hours if you are not going to paint.
You can find this post and many more from Les at the Land Rover Enthusiast forum: http://www.lrenthusiastforum.com/ubbthreads/ubbthreads.php
<click here for the printable pdf file>