Re-building a Caliper (page 2)

Land Rover manual do say you should not to split the two halves but it will be
very difficult to do this job otherwise. There are two small rubber seals between the two halves that must be replaced, but apart from that I don't see why the caliper can't be stripped right down as I have done. I've done this sort of work for customers in the past and have never had a problem. The last one I did was an 'H' Disco 200TDi and there have been no problems at all in the 7-months since I did the job.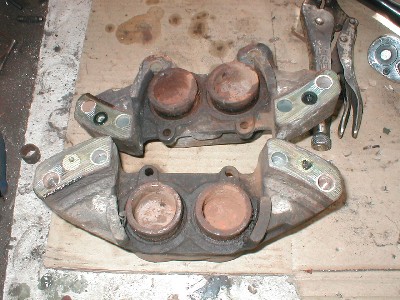 Careful cleaning is now very important, the use of wire brushes in an angle grinder and electric drill will bring the cast iron up surprisingly well. Remember NOT to use anything abrasive inside the bores of the caliper.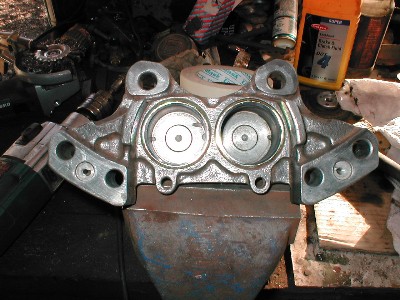 This a 'set' of seals and a retainer for each piston. The thin steel ring is very difficult to get in place, so I used a socket just a bit larger than the diameter of the ring to get it in place. Because it's so easy to distort the ring (and therefore ruin it), I bought a spare set of seals so I had 4-more in case I made a mistake. As it turned out, I wrecked 2!
Here's what a set looks like. The seals are different, the one that sits in the groove at the top of each bore is solid and slightly thicker. The secondary seal is thinner and has a groove around the inside edge. If you are just replacing the seals and/or pistons, then lubricate everything with either brake fluid, or brake grease. I want to paint the calipers, so I have to fit the seals 'dry' at least initially, so as not to contaminate the caliper with brake fluid (oil).