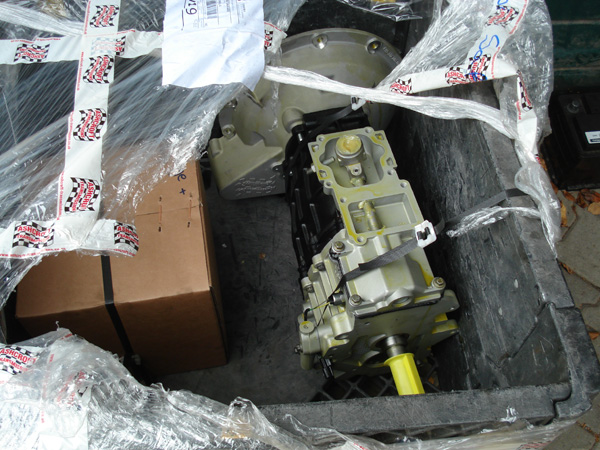 Fitted into a 200Tdi Defender, the Ashcroft Land Rover short bellhousing R380 gearbox & kit. A nice upgrade compared to the LT77 gearbox. Although not a very cheap kit the extra money will be well spend. Time will tell but durability and lifespan should be better compared to the weaker LT77 Land Rover gearbox.
The parts arrived in a nice crate sealed with plastic. The gearbox coated in 'vanilla grease spray' unit including bellhousing is ready to fit. Additional small parts packed in a nice cardboard box. Also supplied a upgrade (2nd hand) transfer box linkage to replace the LT77 one. The bellhousing is a remake by Ashcroft (see picture).
Altogether fitting the box is an easy and straightforward job. We decided to fit both R380 and Lt230 as separate units. Much easier to handle. With the seat base removed lifting the box by hand is possible. Just make sure you have a support ready as it's very heavy. Just be careful not to hurt your back. For support we used a large trolley jack and piece of wood. This will make it easy to align the bellhousing to the 200Tdi engine.
So how does it drive?
You can feel the R380 unit is much smoother on changing gears, it is running nicely however this particular unit does have a bit of a whine in 1, 2 and 3. Maybe caused by new bearings or gear wheels / shaft. As it's a recon unit the history is unknown. But it is running fine, now tested and still doing fine >1500 Miles / 2400 KM.  Howver this R380 is a nice improvement compared to the LT77.
More info at the Ashcroft website: check this link