Autumn, rain and visibility. Recently fitted as test, the Land Rover Defender VENT. We did obtain ours via Mudstuff.co.uk. The actual item is not made by Mudstuff but by a company in Denmark. Which is a bit unfortunate as the quality of the parts and grade of plastic used are not as good as the Mudstuff own products. Fitting the kit is straight forward and not to complicated. However the additional fitting instructions supplied by Mudstuff are essential. Something the manufacturer should amend themselves.  The most difficult bit is fitting the flexible hoses onto the vents and vent outlets, it's a very tight fit and bit of a poor design. Durability will be another question as the plastic Defender Vent parts feel a bit weak due to the type/grade of plastic used. The genuine feel much stronger. Especially the molded joints on the DefenderVENT ones might collapse and separate, time will tell.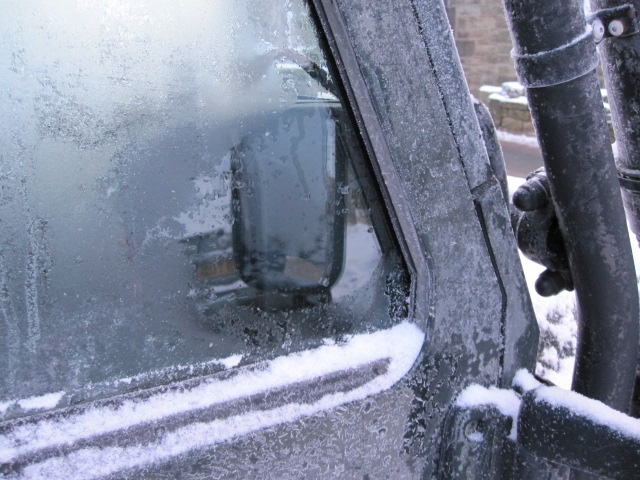 Above a stock picture of what to expect. The main question: does it work? The answer is yes, it does work and especially for the passenger side and side mirror visibility. It will however take a long while to clear the side window and you will still need a cloth or sponge for a manual wipe. Expect at least 10-15km before the window will be cleared using the Defender Vent only. Because of this limited functionality the price tag of GBP 130 is  a bit steep.
For visibility in general and via the windscreen fitting a heated windshield will be much more of an improvement. Alternatively you might want to invest into an engine and vehicle warm-up kit.
Update 17-12-2010:
The Defender Vent product has now been tested during winter, ice & snow conditions and unfortunately it's not as good as the (stock) picture might suggest. It does take way to long to clear the side windows and you will need to wipe your side windows by hand anyway. Due to the steap price tag and limited functionality we unfortunately cant  not recommend this Defender Vent to other Land Rover enthusiasts.